LINC: Learning Intergenerational Community
LINC is an intergenerational program created in 2016 in collaboration with Sudbury Public Schools and the Sudbury Senior Center.
From roots to branches, this afterschool program is designed to bring together third and fourth grade elementary school students with older adults 55+.
   
Teacher-led curriculum building on 25 year success of Bridges Together intergenerational program
 Six structured, but relaxed 1 1/2 hour sessions after school
   

Opportunity for investigating history, meeting STEAM* challenges and problem solving
    STEAM—Science, Technology, Engineering, Art, and Math
LINC Volunteers
LINC is seeking a few good volunteers, 55 and older, to meet 1.5 hour per week afterschool for 6 weeks with a small group of students from the Sudbury elementary schools.
Please contact Judy Battat at 508-443-3055 for more information.
Teen Tech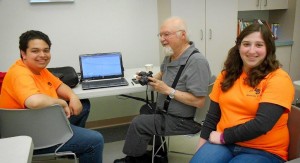 Get to know one of the wonderful students from Lincoln Sudbury High School who will volunteer to help you with your cell phone(s), laptops, iPad or other computer device(s). Call the Senior Center to schedule an appointment at 978-443-3055.