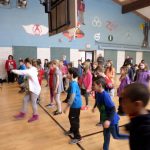 Learning Intergenerational Community—LINC
We are excited to share news of a new intergenerational program
coordinated by the Sudbury Public Schools and the Sudbury
Senior Center!
LINC begins in October at Noyes and Haynes schools.
Adults 55+ are invited to learn more about the program by contacting the
Senior Center Intergenerational Coordinator Judy Battat at
[email protected] or 978–443–3055 and leaving a message.
TRAINING:
New Volunteer Training: Thursday, Oct. 13, 10:00 AM at the Senior Center
SCHEDULE:
Noyes School–Tuesdays from 3:30–5:00 PM—October 18–November 29*
Haynes School–Thursdays from 3:30–5:00 PM– October 20–December 1*
*Transportation may be available.