Upcoming overnight trips:
DIAMOND'S & PEARLS/CASH & KINGS ULTIMATE TRIBUTE SHOW – August 27, 2019
Experience some of the greatest hits from some of the greatest performers of all time. The renowned shipboard duo, Jose and Patti, will wow you with their tribute to Neil Diamond along with some Janis Joplin, Carole King and Johnny Cash mixed in. It is no wonder that they were voted Musicians of the Year by Norwegian Cruise Line. Price includes transportation and lunch. Make checks payable to Best of Times.
Cost is $93 – Payment due: now
LAKE GEORGE BALLOON FESTIVAL 2019 – September 20-22, 2019
This 3-Day trip is a perfect time to enjoy the spectacular Balloon Festival while enjoying a stop at the Norman Rockwell Museum, a dinner cruise on Lake George and 3 opportunities to see the balloons lift off to the skies. Make checks payable to Best of Times.
Cost is $449 pp double. Payment due: August 20, 2019
CANYON COUNTRY WITH COLLETTE TOURS – October 18-25, 2019
Travel to Sedona, the Grand Canyon, Lake Powell, Zion National Park, and more. See the wonders of the southwest on one of Collette's most popular trips.                          Make checks payable  to Collette Tours.
Cost is $2999 pp double  – Payment due: May 20, 2019.
SPOTLIGHT ON THE FRENCH RIVIERA – February 15-23, 2020
Nice, a coastal pearl of the Mediterranean known for its legendary opulence and balmy beaches. With an average of 300 sunny days per year, Nice is a seaside paradise. There will be choices on the tour to visit different art museums, and there will be food featuring delightful French cuisine. Travel to St. Tropez, Monaco, Monte Carlo, Cannes and other famous destinations. Celebrate the end of your trip in the most unforgettable way by attending one of the world's oldest and most famous Carnivals.
Cost is $2999 pp double.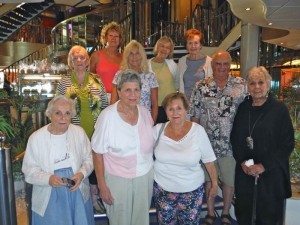 Please stop by the senior center all trips require payment when registering. 
For questions on deposits, refunds, signup policies, please see out trip guidelines.